You are currently browsing the category archive for the 'Youth and Financial Inclusion' category.
> Posted by Center Staff
It's common knowledge in the United States that the student loan situation is bad and getting worse, but what are the actual statistics and how severe is this trend? Like other kinds of debt, student debt has innumerable implications for young borrowers, as well as for the country's recovering economy.
A new report from the New America Foundation inspects undergraduate student loan debt data from the past ten years, compiling borrower rates and amounts, in aggregate and by institution and degree type. The report, The Student Debt Review, draws from the National Postsecondary Student Aid Studies, a national survey series of student financial aid. Here are some of the report's main findings:
More students are indebted. Across all institution and degree types, the percentage of graduates with debt increased from 54 percent in 2004 to 62 percent in 2012. In 2004 there were 1.6 million graduates with debt. By 2012 there were 2.4 million.
They owe more. Total student loan debt increased by an average of $3,300 between 2008 and 2012 after a period of four years in which it changed only marginally (2004-2008).
For-profit colleges are a sore spot. Student debt is increasing especially quickly for bachelor's degree recipients at private for-profit colleges, who now graduate with an average debt of $40,000 and pay $153 more each month than those graduating with bachelor's degrees at public colleges. A very high proportion of the bachelor's degree graduates at private for-profit colleges have borrowed (87 percent), compared to public colleges (64 percent).
> Posted by Rani Deshpande, YouthSave Project Director, Save the Children
Two big financial inclusion gatherings in Europe a few weeks ago turned up the volume on bringing more people into the formal financial system — safely, meaningfully, and fast. With big trends poised to change the financial inclusion landscape, how can we harness them to expand savings opportunities for young people?
In London, the FI2020 convening brought together a who's-who of leaders from the worlds of politics, banking, and microfinance as a culmination of the 18-month "roadmap to financial inclusion" process led by CFI. Discussions here centered largely on the biggest disruptive trends ensuring that, to paraphrase one speaker, financial inclusion will change more in the next 7 years than it has in the last 30. The comment reflects the general tone of the conversation, which was one of impatience or perhaps anticipation at this "inflection moment" created by the convergence of technological development and market dynamics.
According to CFI's "Mapping the Invisible Market" study, the income of the bottom 40 percent of the world's low- and middle-income economies will grow from $3 trillion to $5.8 trillion from 2010 to 2020. At the same time, other panelists pointed out that access to information (through mobile phones), the use of big data, and customer-centricity are creating game-changing new ways to reach and serve poor customers. In order to take advantage of this opportunity, one panelist urged the audience to "stop 'innovating' and start listening to clients" or to keep innovation "brain-dead" simple so that it can easily scale (critical given generally thin margins for BoP services). Usage, as opposed to access, was also highlighted as the new frontier of inclusion, with almost 50 percent of adults possessing accounts but only 7 percent in the developing world using them actively (> 2 transactions per month).
> Posted by Center Staff
The FI2020 Global Forum in London gets underway this Sunday with a pre-Forum side meeting on financial inclusion for persons with disabilities (PWDs). This client-centric start feels like a fitting precursor for an event to expand financial inclusion.
Financial inclusion requires that financial services meet the unique needs of all clients, especially the needs of the most underserved and vulnerable client groups. Sessions throughout the Forum reflect this key tenet. In addition, there are side meetings on the Financial Capability Roadmap and the Consumer Protection Roadmap, focused on moving these roadmap principles and recommendations to action. These and the other three financial inclusion roadmaps were developed through a consultative process that collected and incorporated the perspectives of specific client groups.
Among Forum participants are representatives of various client segments – such as PWDs, women, the elderly, youth, rural populations, and migrants – to help raise awareness of their unique needs and assets. Here's a collection of pertinent statistics for financial inclusion on these client segments:
Youth:
1.8 billion of the world's population is between the ages of 10 and 24
87 percent of youth are concentrated in the developing world
About half the world's youth report being economically active
38 percent of young adults have an account compared to over 54 percent of older adults
The Elderly:
In 1950, globally, 1 in 20 people were elderly. By 2050, it will be 1 in 5.
In 2000, only 6 percent of people in less developed countries were over 65 years old. By 2050, that number will grow to 20 percent.
> Posted by Jeffrey Riecke, Communications Assistant, CFI
For many of us in the U.S., it's largely happenstance that we cross paths with the topics of microfinance and financial inclusion in a meaningful way. Personally, I remember first hearing about microfinance from friends during college, but it was always in passing, never to the extent or specificity needed for it to make a lasting impression on me. I wish this wasn't the case! I wish my college self, and all students for that matter, had more exposure to these areas.
To help students and the U.S. academic community engage with microfinance and financial inclusion, Citi Microfinance and Kiva have teamed up to launch Kiva U. The mission of Kiva U, built around three core initiatives, is to create a community for our future inclusion leaders and to support the expansion of full financial inclusion. There's a big opportunity in the combination of modern communications technology and academia's inherently social environment, though few interactive financial inclusion platforms for students and educators exist. Kiva U aims to gain popularity as such a platform.
The three core initiatives of Kiva U are expand campus-based microfinance clubs, develop classroom-based microfinance and financial inclusion curriculum for all learning levels, and foster leadership among students interested in social enterprise, international development, and financial inclusion.
There are currently Kiva clubs at 67 colleges and 60 high schools in the United States. Providing online and offline engagement tools, Kiva U plans to leverage this foundation and connect with additional students and educators throughout the country's academic community.
> Posted by Center Staff
Today marks 2013's International Youth Day, a day set aside for governments and individuals around the world to bring attention to youth issues. First designated by the United Nations in 1999, this year's day is themed "Youth Migration: Moving Development Forward," and seeks to raise awareness of the opportunities and risks associated with youth migration, share knowledge coming out of recent research and analysis, and engage stakeholders, including youth migrants, in discussing their experiences and in taking action.
Globally, there are about 214 million migrants, with more than 10 percent of these being youth. Like all who migrate, youth face serious rewards in departing their native country, such as economic opportunities and escaping persecution, as well as serious risks, such as discrimination and inadequate living conditions. Youth migrants also face particular challenges, like a heightened vulnerability to sexual abuse and exploitation.
In UN Secretary General Ban Ki-moon's message for this year's Youth Day, he indicated that too little is known about youth migrants' struggles and experiences. For ways to get involved, including channels for sharing personal experiences, visit the UN website, here.
In the Roadmap to Financial Inclusion, the Financial Inclusion 2020 is creating an action agenda to advance financial inclusion for all client segments, including youth and migrants. To learn more about the Roadmap and to explore becoming a Roadmap reviewer, visit the FI2020 website, here. FI2020 also offers the opportunity to engage with financial inclusion among youth and migrant segments through the Mapping the Invisible Market initiative's interactive data tools. With the Data Explorer, you can create visualizations illustrating how changing economics, technologies, demographics – including on youth and migration – and other variables are affecting financial inclusion. Check out the Data Explorer, here.
> Posted by Jeffrey Riecke, Communications Assistant, CFI
Today, people around the world are celebrating World Population Day, a day that seeks to bring attention to the importance of population issues in the context of development. The focus of this year's event is adolescent pregnancy, with the aim to catalyze progress in securing a world where every pregnancy is wanted, every childbirth is safe, and every young person's potential is fulfilled.
There are currently roughly 600 million girls globally ages 10 to 19, 500 million of whom live in developing countries. Each year, 16 million teenage girls give birth, and an additional 3.2 million undergo unsafe abortions. Even though 90 percent of these teenagers giving birth are married, they still experience conditions contributing to challenging pregnancies: inadequate education, sexual coercion, violence, rights violations (including child- and forced-marriages), and gender inequality. In addition to lesser hardships that can come from unplanned or uninformed pregnancies, complications from pregnancy and childbirth are the leading cause of death among girls ages 15 to 19 around the world.
The United Nations is calling for commitments from countries, communities, and individuals to support the provision of quality education for girls from primary school through adolescence, including age-appropriate, comprehensive education on sexuality and health. It's been found that when a girl is educated, she is more likely to marry later, have children later, have healthier children, and earn a higher income. The UN also emphasizes the necessity for comprehensive sexual and reproductive health services. Other areas that demand examination are the legal systems surrounding marriage (including minimum marriage ages) and women's rights.
As we have posted about previously (see here, here, and here), the low level of financial inclusion among youth is a missed opportunity to contribute to their well-being. Starting youth out with financial services can be a good investment. A New America Foundation study suggests that instilling a habit of saving among youth sets them on a course for a lifetime of financial capability. According to Youth Economic Opportunities, girls who are less financially dependent are at lower risk for negative effects of early pregnancy and child bearing. In a recent World Bank paper on gender equality and development, it was found that lack of agency (that is, a person's capability to advance goals she values) is a key factor driving poor reproductive health outcomes among women generally. For example, women in Bangladesh who had more decision-making power were more likely to access prenatal services and skilled birthing accommodations.
> Posted by Sonja E. Kelly, Fellow, CFI
In our recent paper on income growth and financial services, Elisabeth Rhyne and I argued that as people's incomes rise, so does demand. Soon after we published the paper, protests began in Brazil. Many are citing this social movement as the result of increased economic growth and prosperity. When we look closely at those protesting, we see that the majority of the protesters may not even be middle class. Instead many, if not most, are in the "vulnerable class," with incomes between approximately $4 and $10 per day.
Last week, the Center for Global Development wrote a blog post that highlights the findings from their forthcoming paper on the growing vulnerable class in Brazil. Nancy Birdsall holds that this vulnerable class is demanding more and better public services such as infrastructure, education, and health, consistent with our own hypothesis linking income growth and demand.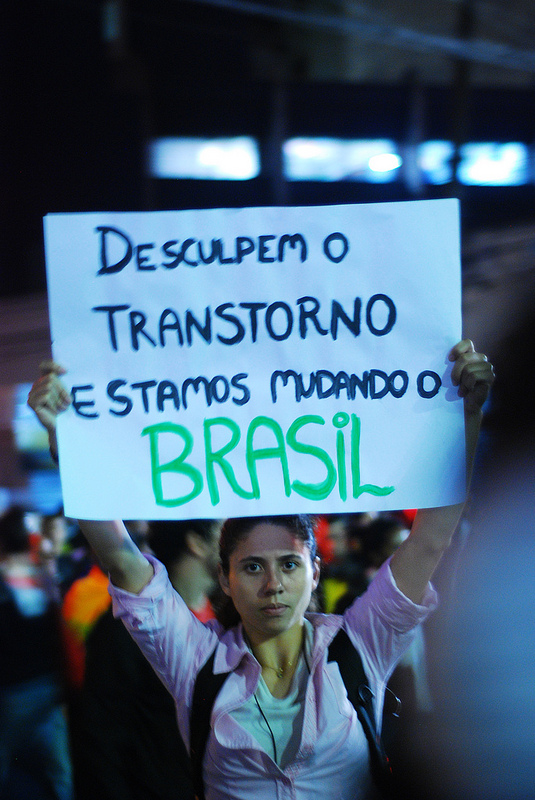 The Center for Development blog post begins:
"Sorry for the nuisance: we are changing Brazil," reads the sign carried by a young woman marching down the streets of São Paolo on June 17.
So who is this "we" she refers to? Fellow protestors, certainly. But "we" might also refer to the large, frustrated group of "strugglers" in Brazil—those who are no longer poor—but have income still too low to be part of Brazil's new middle class. In a revolution of rising expectations they are demanding a better government. Their demands put Brazil's still-young democracy (the military withdrew less than 30 years ago) at a crossroads. If their evolving needs and demands are met, they will have acted as agents of inclusive growth and change in their society. If their problems are neglected and they lack sufficient schooling, skills, and opportunities, they could become a restive underclass, and likely supporters of populism and civil strife.
On paper, the past two decades have brought significant improvements for Brazilians: Supported by good macroeconomics, median household income has more than doubled while income inequality has decreased. Brazilian President Dilma Rousseff likes to point out that the country has lifted millions of people out of poverty and into the "middle class."
> Posted by Nate Gonzalez and Alina Kogan, Investment Officers, Accion Venture Lab
The Financial Inclusion 2020 project at the Center for Financial Inclusion at Accion is building a movement toward full financial inclusion by 2020. Accordingly, this blog series will spotlight financial inclusion efforts around the globe, share insights coming out of the creation of a roadmap to full financial inclusion, and highlight findings from research on the "invisible market."
Over the past year at Accion Venture Lab, a new program that invests in financial inclusion start-ups, we were initially surprised to see a rapid proliferation of online personal financial management (PFM) tools and rate comparison start-ups popping up across Latin America, particularly in Colombia and Brazil. These companies aim to present consumers with a consolidated view of their finances across various financial products (e.g., bank and investment accounts, loans, insurance products, credit cards), educate consumers on financial literacy, provide budgeting tools, and often, make money (through qualified leads to banks) by suggesting better products for consumers based on pricing and needs assessments. On the surface, this trend must seem premature, considering internet usage across the continent remains under 50 percent and online banking rates are even lower. But if you dig into the changing income distribution data across Latin America coupled with existing financial sector market dynamics, this trend toward increased financial education on available products and services begins to make a bit more sense. The rapidly evolving income shifts across the region highlight the importance of democratizing data as a means to further financial inclusion.
Latin America has experienced significant change over the past several years, which has resulted in millions of people moving into the ranks of the middle class. Between 2003 and 2009, Latin America's middle class expanded by 50 percent, from 103 million to 152 million, accounting for roughly 30 percent of the total population in 2010. In Brazil alone, over half of Brazil's 190+ million people are considered middle class, and a majority of them rose to middle class status in just the past five years. CFI just released a new report, Growing Income, Growing Inclusion: How Rising Incomes at the Base of the Pyramid Will Shape Financial Inclusion, which details changing income patterns across emerging economies and the subsequent implications for financial inclusion focused initiatives globally. In addition to the growth of the middle class, the report highlights that almost 40 percent of the current population in Latin America are considered part of the "vulnerable class," defined as pre-middle class persons with incomes from $4-10 per day. This group has experienced similar high growth rates over the last five years. The CFI report predicts that this "rising tide" trend will continue.
> Posted by Syed Mohsin Ahmed, Chief Executive Officer, Pakistan Microfinance Network
The Financial Inclusion 2020 campaign at the Center for Financial Inclusion at Accion is building a movement toward full financial inclusion by 2020. Accordingly, this blog series will spotlight financial inclusion efforts around the globe, share insights coming out of the creation of a roadmap to full financial inclusion, and highlight findings from research on the "invisible market."
At the Pakistan Microfinance Network, we are always in search of more data on financial inclusion in Pakistan. So imagine my delight when I heard about the Country Profiles feature on the Center for Financial Inclusion's Mapping the Invisible Market website that features data from the World Bank Global Findex among other sources. My exploration of the Pakistan country profile page gave me some new insights and raised a few questions for future research.
First, a very high proportion of the people who took loans (largely informal) in the past year in Pakistan took them to deal with health and emergencies. Seventeen percent of all adults in Pakistan borrowed in the past year for health and emergencies, while only about 10 percent of the people in other middle income economies did so, even though in Pakistan, people are less likely to take out loans overall.
This observation makes me wonder if there is a pent-up demand for insurance in Pakistan. For a country that has seen a number of major disasters in the last few years, no doubt there is a great need for insurance products in Pakistan to help prepare for emergencies.
When I looked further at who it was that was taking out these loans (again, both formal and informal) for health or emergencies, I noticed that they were disproportionately rural, or poor, or to have only completed primary school. These observations offer a picture of what vulnerability looks like in Pakistan, and where financial inclusion efforts might be targeted for maximum impact.
Looking specifically at formal financial services, I found that the percent of people who have an account at a formal financial institution in Pakistan is quite low—10 percent—compared to the rest of South Asia—33 percent. In both, the number one use of accounts is to receive wages. Unsurprisingly, in Pakistan, education and gender have a great impact on the use of accounts—25 percent of people whose education level is secondary school or higher have an account compared to only four percent of people who have just a primary school education. Seventeen percent of men have an account compared to three percent of women. Read the rest of this entry »